The Most Versatile Video Transitions Pack Avaliable Today
AinTransitions extension and Free pack are available. The premium pack is ready for release, but we choose the marketplace.
Download the latest version of AinTransitions extension
Free Toolkit*
Try before Buy
Premium Quality
Guaranteed
Why should you choose AinTransitions Ultimate Seamless Transitions Pack?
Introducing AinTransitions, a powerful and slick extension for Adobe After Effects that makes your video projects jump to life by using stylish and cool video transitions. These trendy video transitions were masterly designed and created to grab the viewer's attention, allowing you, the editor to tell a compelling and epic story to keep viewers entertained. Whether you're a complete newbie or a seasoned professional...we are confident you'll find AinTransitions simple, intuitive and fun to use for all your video editing projects. In a world of constantly evolving video technologies, one thing remains the same, the need to link your video clips and segments and tell a coherent and epic story...and this is where AinTransitions comes to the rescue. There are already a huge number of different packs on the world market and among them you need to find the right one. This is where we solve one important problem - you no longer need to search among the many packs. We made a unique powerful extension and more than 3500 transitions of various types are included. And with future updates this number will grow!
Where to use AinTransitions
TV Productions
Video Openers
Promo Videos
Wedding Videos
Film Productions
Logo Reveals
Corporate Videos
Sizzle Reels
YouTube Videos
Video Blogs
Music Videos
Portfolio Videos
Cinema Trailers
Instagram Stories
Tutorial Videos
Gaming Videos
Photo Slideshows
Ideas where transitions can be used to create delightful photo slideshow
MultiPurpose Seamless Transitions
The most comprehensive video transitions pack for After Effects on the market
Exclusive Features
In addition to 3500+ transitions for After Effects, our extension includes minimal titles, photo covers and automation functions
Automation Functions
Useful features to help you save your time and work more conveniently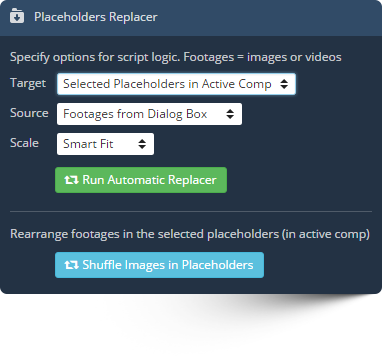 2
Build Sequence of Slides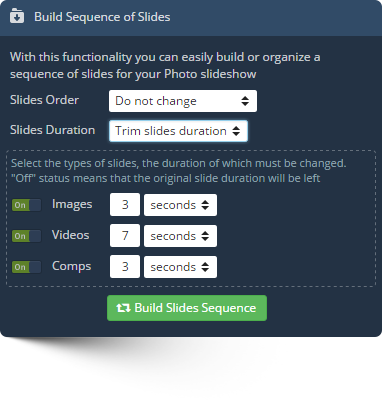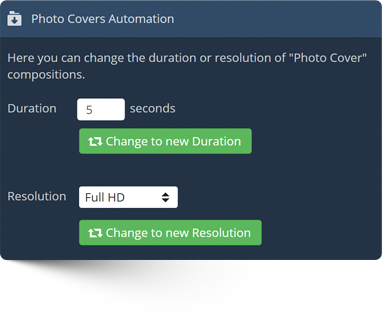 4
Transition FPS Conversion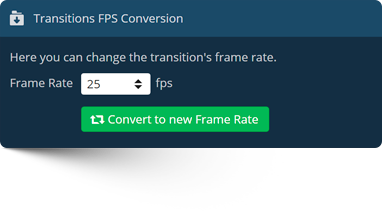 Minimal Titles Pack
Suitable for your captions in a video or photo slideshow. Comes with auto-resize feature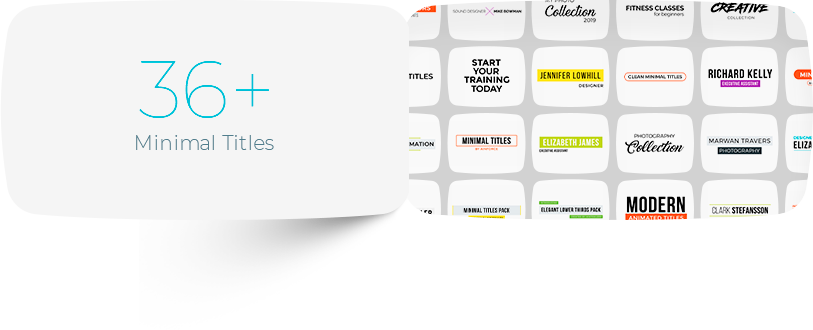 Editable Duration
A quick way to change the Start and End of an animation
Smart Auto Size
Unique design of the title is retained for any size of your text
Live Preview
You can see the preview of animations in the extension
Smart Import
Import only the title you need with a single click
Color Change
You can easily change the color of any part
In & Out Animation
Unique In and Out animation of the minimal title
Up to 4K Resolution
It supports any minimal title resolution you need
Use Any Font
You can use any font for minimal titles

View preview of all Minimal Titles
Motion Effects
Motion Effect presets that make your photo or video more lively and dynamic
Photo Covers
Photo covers are great to use as a splash screen for your video, but their ideal use is in creating photo slideshows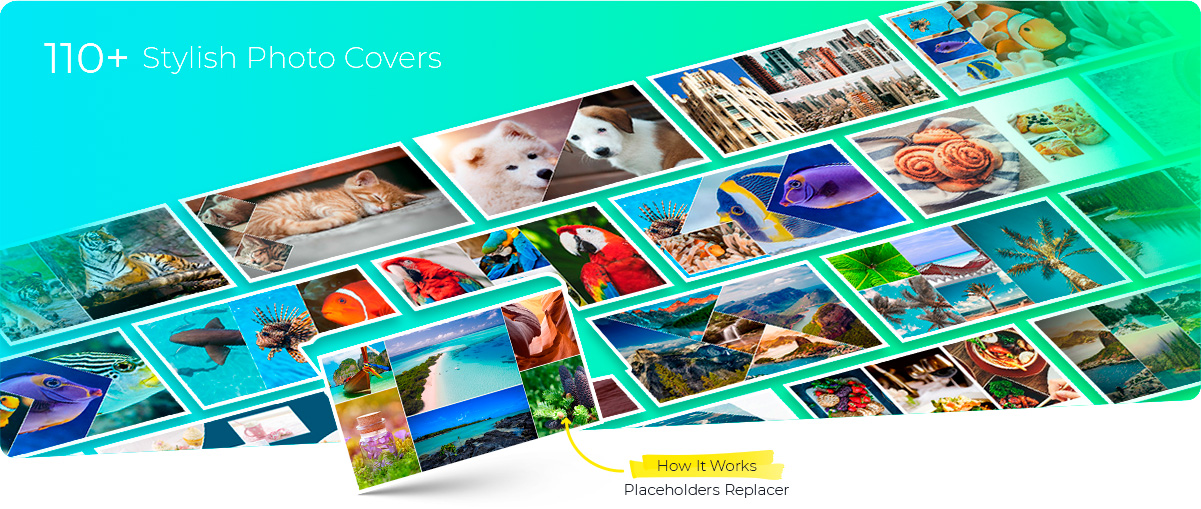 1
Select one of 110+ layouts
View preview of all Photo Covers
Powerful Extension
Great solution for both experienced and first-time users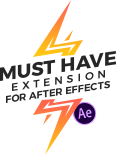 Clean structure
Easy to navigate
Applying in one click
Featured collections
User friendly interface
Elegant minimal titles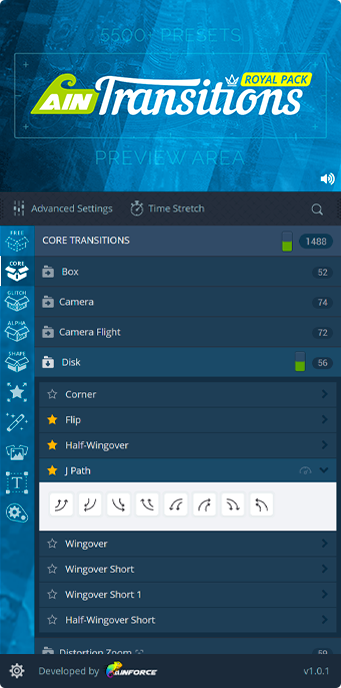 Duration control
Animation speed control
Preview of transitions & other elements
Target control for zoom transitions
Diffent transitions directions
Automation Functions
Featured Collections
Create an unlimited number of your own favorite collections with transitions
Highlight your favorite transitions in your own collections, so as not to waste time re-searching among a large number of transitions.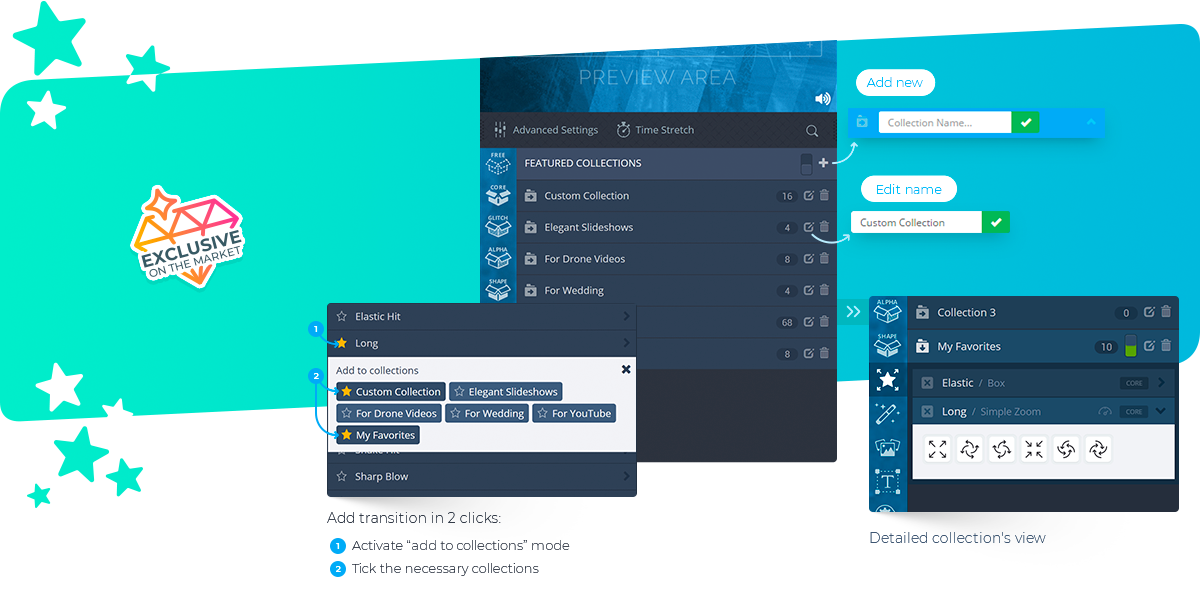 Must have feature for working with video content
Easy management of collections
Easy transition management in collections
Adding a transition to multiple collections
Easy sorting of collections and transitions in them
Unlimited number of your own favorite collections
Extension Features
Some of the main transition's features available in the AinTransitions extension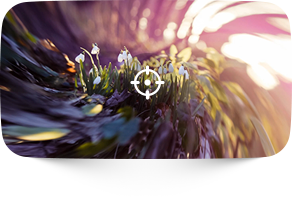 Target control for Zoom Transitions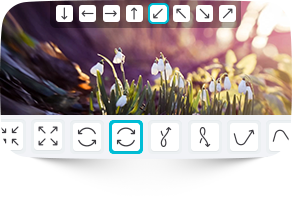 Apply transition in one click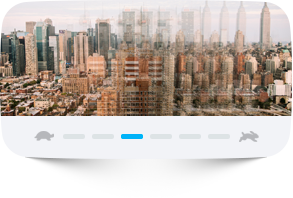 Easy way to change transition's speed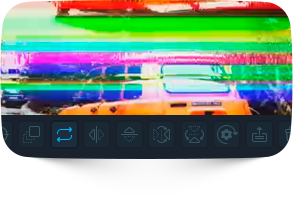 Random Seed for Glitch transitions
Three Colors Options for Extension
Easy one-click switching in the extension settings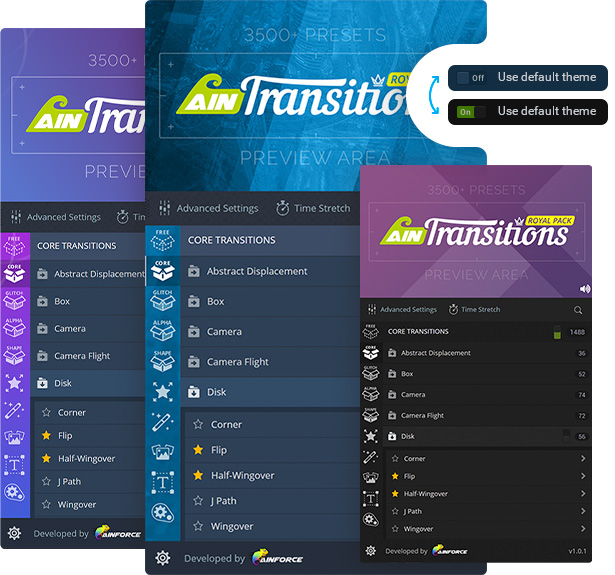 Responsive Design
for any aspect ratio of the screen and resolution up ot 4K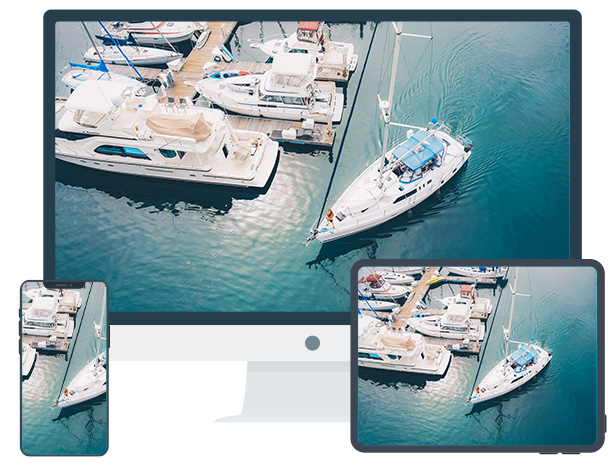 What makes AinTransitions extension Outstanding?
Exclusive features based on the experience of users
Featured Collections
Absolutely unique feature on the market. The ability to create an unlimited number of your own collections with transitions
Automation Functions
Transition FPS Conversion
Placeholders Replacer
Build Sequence of Slides
Typography Pack
Minimal Titles go along with a pack of transitions and are suitable for your captions in a video or photo slideshow
Photo Covers
Use beautiful covers for your slideshow or fit a lot of photos in one scene. Comes with Placeholders Replacer
Powerful Extension
The most advanced and convenient extension with transitions in the entire market
Free Pack of Transitions
Try the extension before buying a premium pack
Popular Feature Highlights
AinTransitions extension contains all vital features
Multipurpose transition presets
Applying in one click
Animation speed control
Different directions (vertical, horizontal, diagonal)
Customize the duration of the transitions
Target control for zoom transitions
Supported any resolutions up to 4K
Supported any aspect ratio regardless of orientation
Adjustment layers system (without media placeholders)
Over 3500 stylish transitions for After Effects in one package
Over 110 motion effects
420+ high quality Sound FX
36+ minimal titles and lower thirds
110+ great photo covers
Free pack of 170 transitions
Powerfull and easy to use extension for After Effects
Free updates
Step-by-step video tutorials
Comprehensive documentation
Free extension for demo purposes
Great for both first-time and experienced users
Ability to use in Premiere Pro via the Dynamic Link
Wide variety of transition's categories
Clean package system
Clean categories structure
User friendly interface
Ability to create own collections
Ability to change transition`s frame rate
Ability to change typography`s frame rate
Placeholder replacer
Build sequence of sliders
Ultimate Transition's Sound Effects Pack
420+ high quality sound effects included in Premium package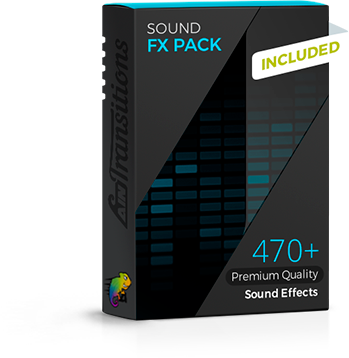 Custom SFX
made by professional sound designer
AinTransitions Packages
AinTransitions has two packs - Free and Premium. Premium pack has two types of licenses - Standard and Extended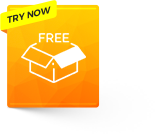 Free Pack
$0
150
Transitions for After Effects
20 Motion Effects
30 Quality Sound FX
- Photo Covers
- Minimal Titles
- Build Sequence of Slides
- Placeholders Replacer
- Transitions FPS Conversion
- Typography FPS Conversion
Get Free Pack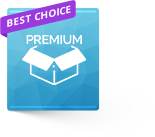 Premium Pack
from $65
3500+
Transitions for After Effects
Build Sequence of Slides
Placeholders Replacer
Transitions FPS Conversion
Typography FPS Conversion
Buy Premium Pack
How to Videos
We have prepared detailed video tutorials on all parts of our extension. Some of them are in quick access below
Subscribe Us
Get the latest updates, new products, tutorials and free products