We are pleased to present you a pack with free transitions for Adobe After Effects. This pack is intended for use in our AinTransitions extension, which you can download for free here.
Free Transitions Pack includes 150 transitions, 20 motion effects and 30 sounds. Transitions included in the free pack provide examples for all the main categories included in the premium pack. These are transitions from categories such as Core Transitions, Glitch Transitions, Shape Transitions, Alpha Matte Transitions, Motion Effects. With the help of free pack you can test how it works and how our extension for After Effects works.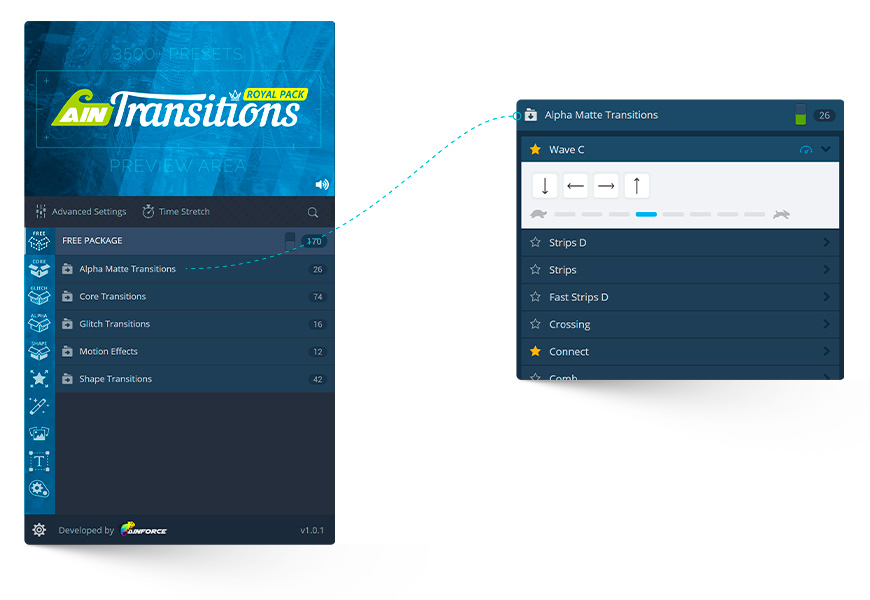 For our AinTransitions extension, detailed video tutorials and documentation are available, so you can start using it as a pro. We took care of almost all aspects so that you can use both AinTransitions extension and transitions as efficiently as possible. Also, in addition to everything, we prepared use cases that contain a bit of theory and examples for almost all categories and types of video transitions for After Effects and Premiere Pro.
Why is there a Premiere Pro, although transitions for After Effects. That's right, you can use the transitions in Premiere Pro, designed for After Effects. This can be done through the Adobe Dynamic Link and we have a video tutorial on how to do this. You can also read in more detail about the Dynamic link at the link.