If you're a video content creator, you know that obtaining quality footage is no longer the challenge to creativity. For a start, just about any modern smartphone is capable of recording high quality 4K video.

The REAL problem is how to edit all your footage and produce a high quality and compelling video production that will have your audience begging for more.  Sure… you might have tried to use the default video transitions that come with your editing software and guess what…your video ends up looking like everyone else's. Nothing special about it right…?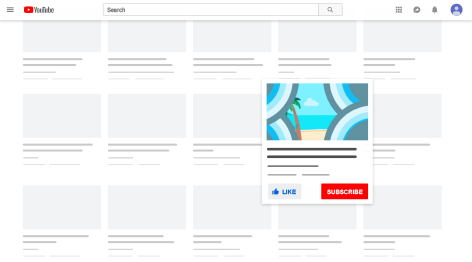 What if there was a toolkit with more diverse choice for seamless transitions…allowing the video editor a lot more creative choices that suit a variety of different projects and uses?
What if there was a "One Stop Shop" type of video transitions pack, meaning you'll never need another video transitions pack…ever again?
What if this transition pack was so comprehensive yet is easy to search and find the perfect video transition to suit any of your projects, each and every time?
What if this pack was so easy to use, all it took was just one click to apply the freshest, modern and most awesome video transitions available anywhere on the market?
Guess what?
Today is your lucky day for there is such a video transitions toolkit!
Say hello to AinTransitions, a powerful and slick extension for Adobe After Effects, loaded with more than 3500, jaw-dropping and powerfully intense video transitions to choose from.  AinTransitions will transform your videos into professional works of blockbuster proportions. Every single one of the trendy and cool transitions in the pack was carefully and masterly designed to grab the viewers' attention, allowing you to tell a compelling and epic story.
But that is not all. The premium core pack includes 36+ minimal titles with auto-resize feature, 110+ stylish photo covers, 110+ motion effects and additional functions for automation (build sequence of slides, placeholders replacer, transition's frame rate conversion, typography's frame rate conversion, photo covers automation).
All-in-One Seamless Transitions Pack that You'll Ever Need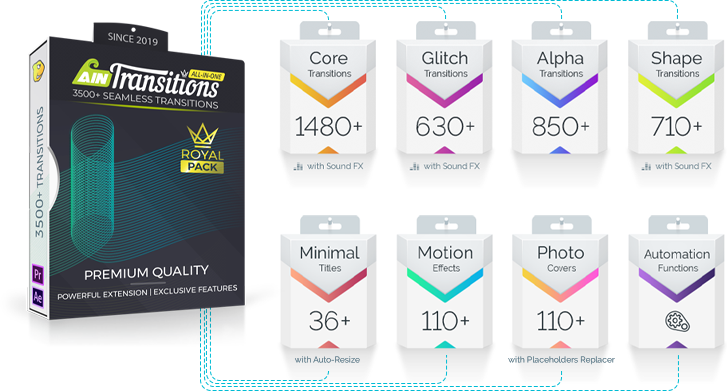 Whether you're a complete newbie or a seasoned professional. We are confident you'll find AinTransitions simple, intuitive and fun to use for all your video editing projects.
On first use of this extension, a user-friendly interface greets you…making you immediately comfortable and confident to start using it right away.
The clean structure, layout and ease of navigation, makes finding the exact transition you need, effortless.
Real time previews mean you can already tell how any specific transition will turn out, saving you unnecessary trial and error time.
Once you find the transition that works for you, why not add it to your very own collection so next time you want to use it…. it's right there for you. You can create as many collections as you wish then organise and categorise them by type of projects you usually work on.
Want to slow down, speed up or even change the direction or target points your transition to match your desired style…no problem! The AinTransitions engine is equipped to handle any changes to every single default transition, giving you even more versatility with just a single click.
Want transitions to use specifically for your Instagram video aspect ratio? …No Problem! Every single transition in this toolkit is seamlessly Responsive to fit any screen aspect ratio… all the way up to 4K resolution.
What's more…full automation removes all the guesswork in creating beautiful photo covers and grid image posters for your slide shows. Simply use the automatic placeholder replacement functions and it's done…!
So maybe you prefer to edit your videos in Adobe Premiere Pro? …No Worries! ...AinTransitions has you covered. You can easily apply any transition via the Dynamic Link for a smooth integration.
Oh, and one more thing, all transitions, with the exception of alpha pack, come with a quality cinematic sound FX that was carefully composed to complement each and every transition...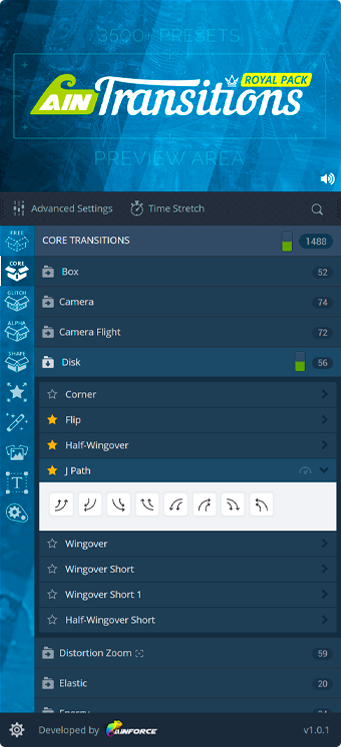 At the end of the day…we all know that time is the only resource any video content creator has…and this is the reason we've made time saving and ease of use our primary objective in this video transition pack.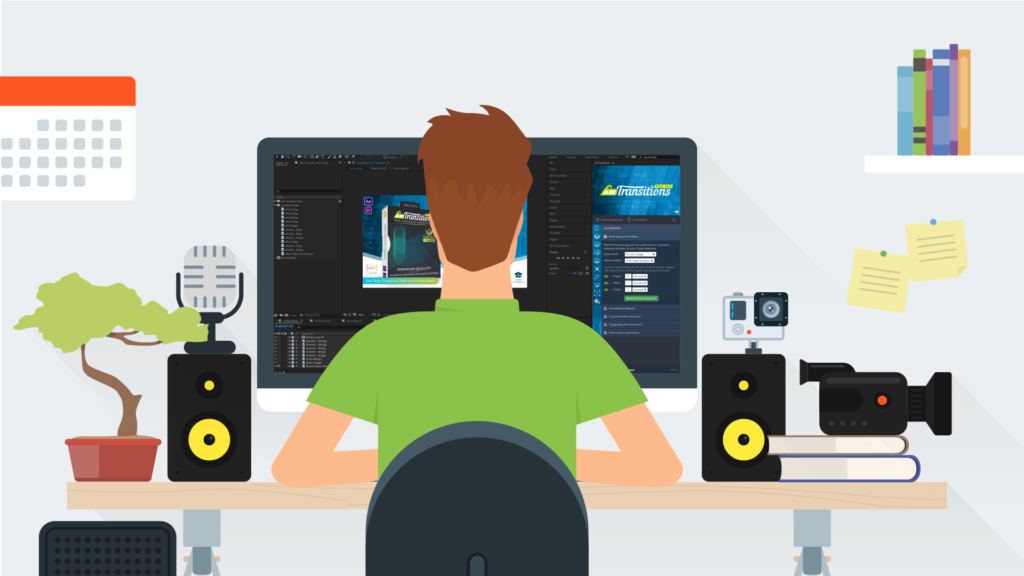 Our comprehensive documentation and step by step video tutorials all mean setting up and starting to use this extension takes just a matter of minutes.
For your peace of mind, you'll be glad to know AinTransitions is future proof, meaning you'll receive regular and necessary updates, to guarantee it always runs smoothly with your Adobe editing software.
Look, if you're still undecided about this toolkit …why not take advantage of our Free Pack of transitions and get to try the toolkit before you buy? We're confident you'll love it.
So, go ahead and get the Full AinTransitions Pack or test drive the Free Pack today.
It'll transform your video productions from "OK" to "EPIC" – Guaranteed!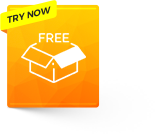 Free Pack
$0
150
Transitions for After Effects
20 Motion Effects
30 Quality Sound FX
- Photo Covers
- Minimal Titles
- Build Sequence of Slides
- Placeholders Replacer
- Transitions FPS Conversion
- Typography FPS Conversion
Get Free Pack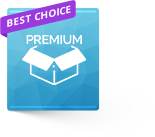 Premium Pack
from $65
3500+
Transitions for After Effects
Build Sequence of Slides
Placeholders Replacer
Transitions FPS Conversion
Typography FPS Conversion
Buy Premium Pack