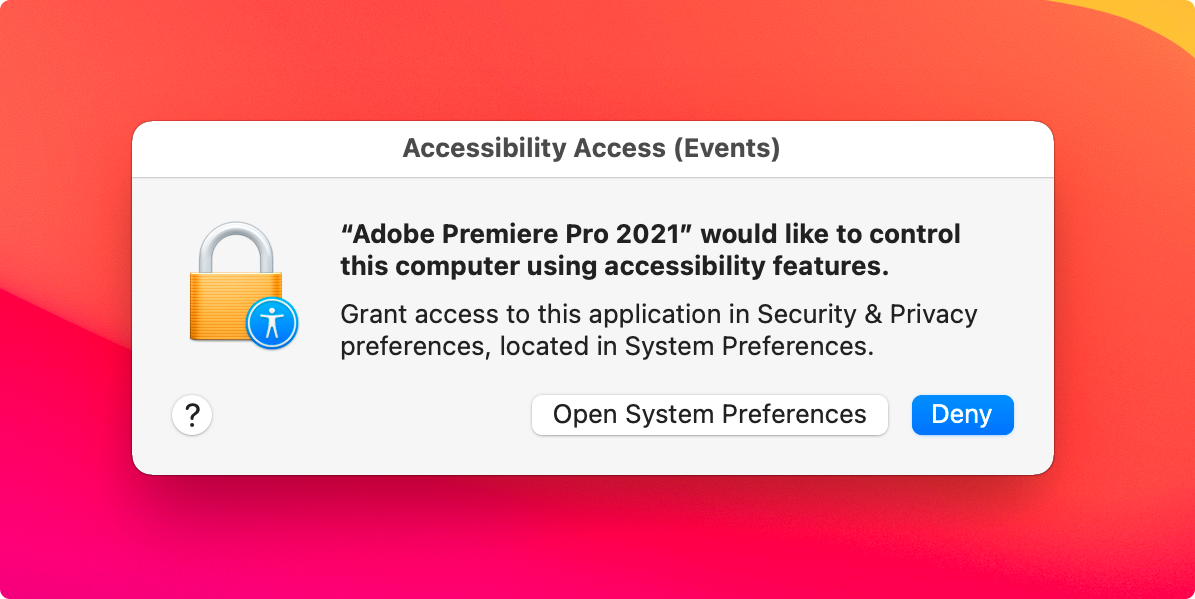 Users of the Mac operating system, when using the AinTransitions extension for Premiere Pro for the first time, may encounter a message like "Adobe Premiere Pro would like to control this computer using accessibility features".
What is it and why is it happening?
AinTransitions extension for Premiere Pro has in its arsenal the ability to add a preset to the timeline automatically. This can be done in only one way, by calling the Premiere Pro command "Paste", or in other words, emulating the event of pressing the combination "Command + V" inside of Premiere Pro. Therefore, the default system security policy notifies this and asks for permission.
What needs to be done?
You need to give permission to the Premiere Pro by clicking on the "Open System Preferences" button and then adding Premiere Pro to the list of allowed programs with granted rights. This action needs to be done only once. Now our extension can call the function to Paste from the clipboad, saving you from manual actions.
We recommend that you grant the rights before the launch of Premiere Pro and the extension

In this video guide, you will learn how to grant rights for Premiere Pro so that it has permission for events. In other words, the system will allow Premiere Pro to use automatic insertion from the clipboard.
Open "System Preferences"
Open "Security and Privacy"
Open "Accessibility" menu in "Privacy" tab
Unlock to make changes
Click on the plus icon and add a Premiere Pro (from the Applications).
You need to add all versions of Premiere Pro where you plan to use the extension.
Restart Premiere Pro
If you forbid Premiere Pro to call the system Paste command (Command + V) from the buffer, then the automatic adding of the preset to the timeline will not work! Please keep this in mind. However, you can still use the manual way to add a preset to the timeline.