You may encounter a situation in which when you activate the Premium package or check the extension version, you get a similar message "Warning! There are problems sending a request to the license server or Envato API server. Please contact us via email support@ainforce.freshdesk.com and provide logs". To make sure there is a problem, we recommend that you first make a test request using the "Send" button located in the "Extension Updates" tab.
Such notice may occur if there is one of the reasons below: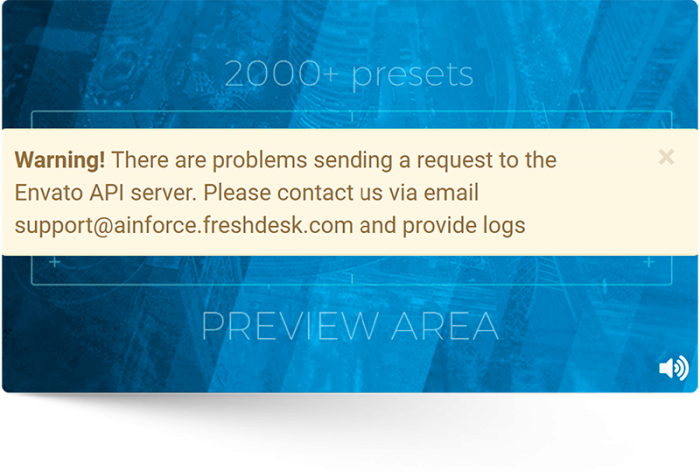 There is no internet connection on your computer. Please make sure that the Internet connection is active on your computer and try again.
The firewall on your computer blocks the request/response to(from) the license server. Please make sure that the rules of your firewall allow sending requests from Premiere Pro. Also whitelist the IP address (5.189.152.75) of our license server and port 80 and 443.
Server response returns an error result, however, if there is a problem with the server, you will receive an additional notification with the code.
Any other specific problem that we have not yet encountered. For a more detailed analysis of the situation, we need the logs (errors and activations) that the extension generates.
If you checked all the methods, but the problem persists, please create a support request on our portal and provide maximum details and also attach activation and error logs (activationLogs-PPRO-XX.x.x.json, errorLogs-PPRO-vXX.x.x.json). If any errors occur, the log files are written to the ~Documents folder > Ainforce Extensions > AinTransitionsPPRO. Logs are generated in conjunction with the Premiere Pro version, so each log file will have a build at the end of the file. The presence of logs will allow us to figure out as quickly as possible exactly what reason arose and how to help you.