The premium AinTransitions Core Pack includes useful additional functionality, among which mega useful "Placeholders Replacer". This functionality will be primarily useful when using Photo Covers templates. In just a couple of clicks, this will allow you to insert or replace footages in placeholders. But you can use this functionality with any other templates, it has quite flexible options.
How to use Placeholders Replacer functionality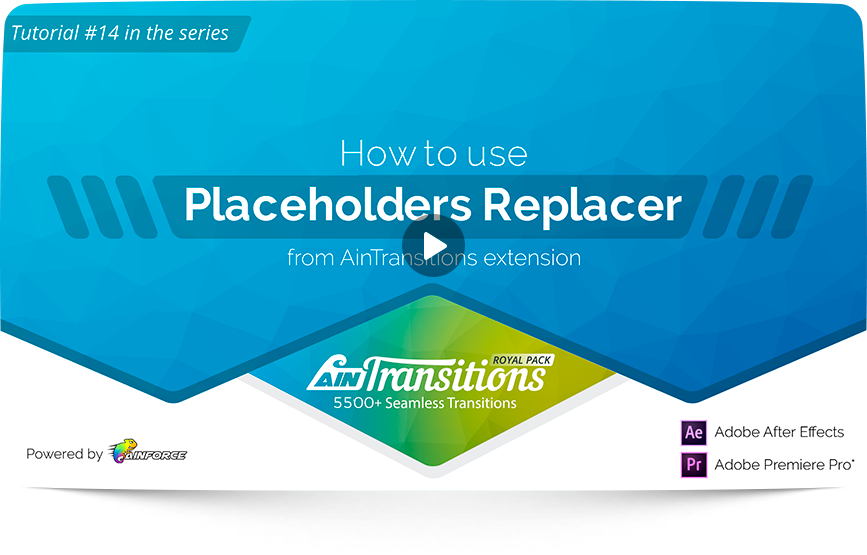 We care about users with different levels of After Effects, so our tutorials are made in a detailed form. Therefore, time codes are available for each tutorial, with which you can find the necessary information. Also in each tutorial at the top there is a visual display of the section.
00:00 – 00:07

–

Intro

00:08 – 01:23

–

Interface Overview

01:24 – 02:20

–

Option 1 – Smart Fit

02:21 – 03:06

–

Option 2 – Fit to comp

03:07 – 03:32

–

Option 3 – Do not scale

03:33 – 04:08

–

Option 4 – Footages from project panel

04:09 – 04:55

–

Option 5 – Select placeholders in project panel

04:56 – 05:25

–

Option 6 – Select footages in active comp

05:26 – 05:57

–

Other features

05:58 – 06:08

–

Ending
You can familiarize yourself with the main points from the video tutorial in text form on a separate page "Key points of use"