You can use After Effects transitions in Premiere Pro via the Dynamic link, however, this method has a known problem. The composition from After Effects does not have an audio in Premiere Pro timeline, although physically this sound exist in the composition. This situation can be observed when you replace a clip selection with "replace with After Effects composition" feature in Premiere Pro. In this case, the composition is added to the timeline with no audio track.
Unfortunately, this is a well-known bug of Premiere Pro and Dynamic link, which is already present in many versions including the latest СС 2020. But there is still hope that the Adobe team will fix this someday.
But there is good news as this problem has a solutions.
Overwrite the composition (which was imported from After Effects) you have in your Premiere Pro timeline with the same composition from Project Panel. This should fix the problem, but if for some reason it didn't work the first time, follow the steps below.
Switch to After Effects and find the layer with the transition.
Adjust the "Audio" > "Audio Levels" property of the transition by 1 decibel.
Save the After Effects project.
Switch to Premiere Pro and overwrite the composition you have in your timeline with the same composition from Project Panel.
If the sound still does not appear, repeat steps 1-4 again.
Copy and paste sounds/audio from After Effects to Premiere Pro
Switch to After Effects and find the transition's composition.
Select the sound effects layer inside the composition and copy it

Windows: CTRL + C 
 Mac OS: COMMAND + C

Switch to Premiere Pro and paste the sound

Windows: CTRL + V 
 Mac OS: COMMAND + V

Drag the sound layer to the position of the transition in the timeline
How to fix issue with sounds after using Dynamic Link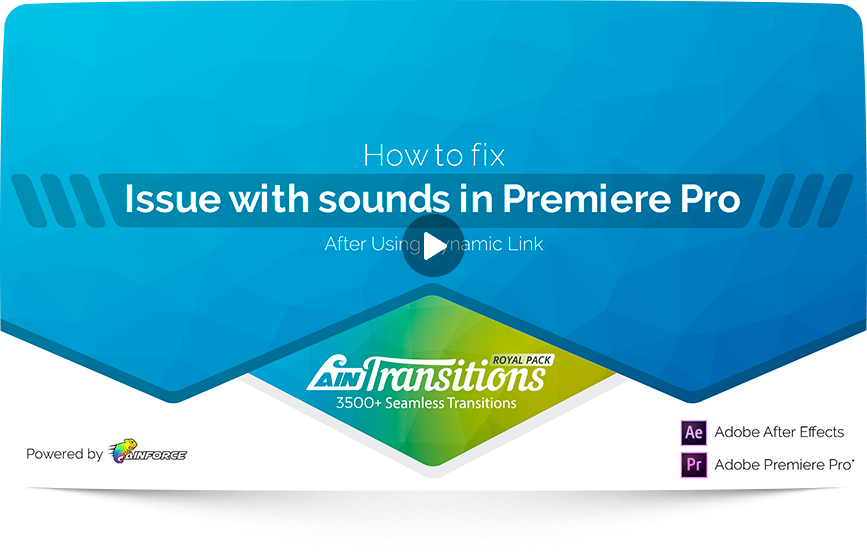 The tutorial above shows a solution to the problem when your clips in Premiere Pro contain an audio track. Or in other words, when you send clips (footages) to After Effects through Dynamic link and at least one audio track. If you send clips to After Effect without an audio track, the solution above will not work. For the solution to work, you need to temporarily add a sound to the timeline that you must send with the clips to After Effects. Below is a video tutorial that shows this life hack and all the necessary steps.
How to fix issue with sounds after using Dynamic Link – Lifehack version