AinTransition includes more than 5,500 transition presets. For the convenience of orientation on all transitions, we divided it into 5 packs, focusing either on the principle of implementation or on the type of transitions.
Fout of them, Core, Color, Glitch and Shape Transitions, work on the same principle of operation. In transitions from the indicated packs the transition point from one footage to another is carried out in a place with a marker "ainTR".  Transitions from the Alpha Transitions pack work on a slightly different principle, since these transitions use the alpha channel and it requires a precompose step with footage (and there should be a bottom slide under the top slide, so that the footage from the top slide is subtracted from the bottom). You can distinguish this type of transitions from all the others by the marker "alpTR". A clear example of both principles is shown in the image below.

The interface in all transition packs is the same, so below you can find the basic principle of the interface.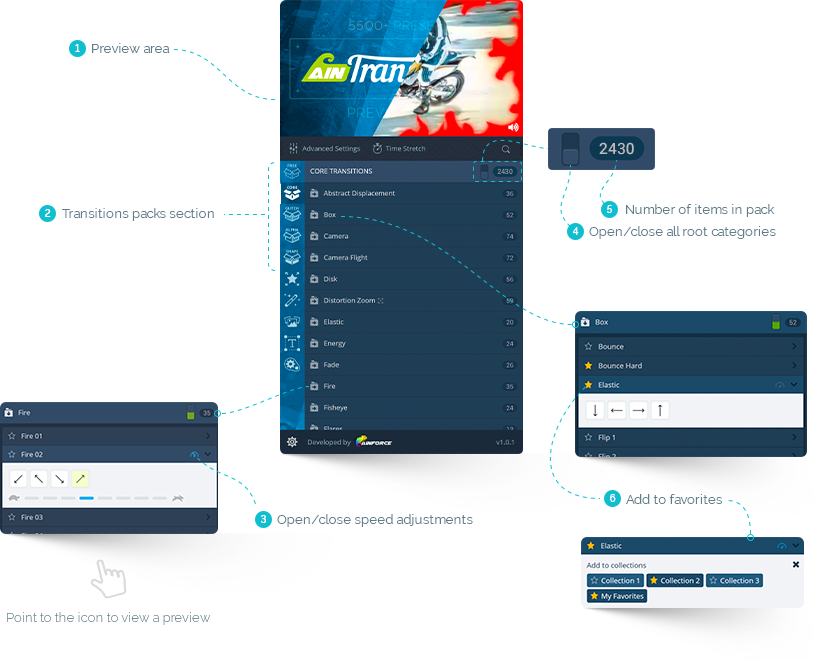 How to use Seamless Transitions (Core, Color, Glitch, Shape)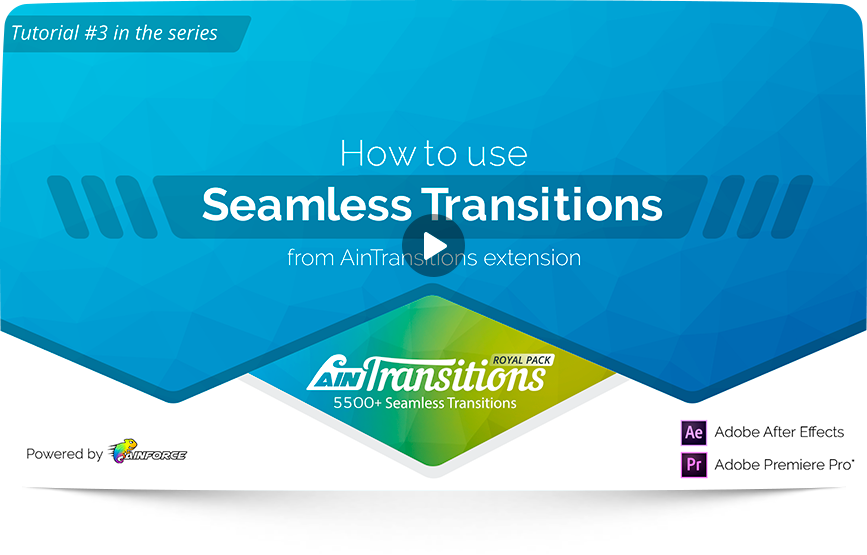 We care about users with different levels of After Effects, so our tutorials are made in a detailed form. Therefore, time codes are available for each tutorial, with which you can find the necessary information. Also in each tutorial at the top there is a visual display of the section.
00:00 – 00:07

–

Intro

00:08 – 03:59

–

Interface Overview

04:00 – 04:09

–

How to use Transitions from Core, Color, Glitch, Shape packages

04:10 – 06:07

–

How to: Case 1 (no layer selected)

06:08 – 08:35

–

How to: Case 2 (how to add multiple transition's presets)

08:36 – 09:06

–

How to: Case 3 (how to replace transition's presets)

09:07 – 11:11

–

How to adjust the speed (two options)

11:12 – 11:22

–

Ending
You can familiarize yourself with the main points from the video tutorial in text form on a separate page "Key points of use"
How to use Alpha Transitions (with alpha channel)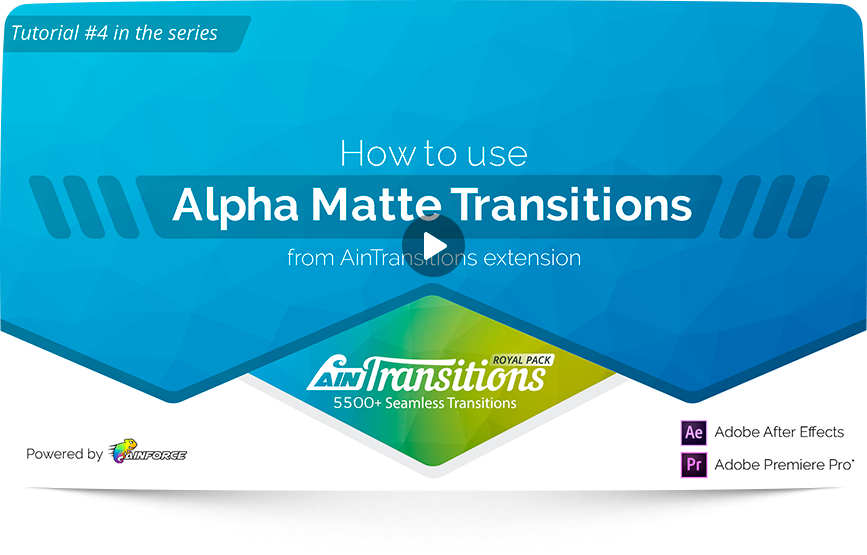 00:00 – 01:06

–

Intro

01:07 – 04:06

–

How to use transitions with alpha channel

04:07 – 05:34

–

Additional cases (adding multiple transitions, combination with another type)

05:35 – 06:53

–

Other features (how to de-compose precomposition with alpha transition)

06:54 – 07:03

–

Ending
You can familiarize yourself with the main points from the video tutorial in text form on a separate page "Key points of use"
How to use Color Transitions (gradient transitions)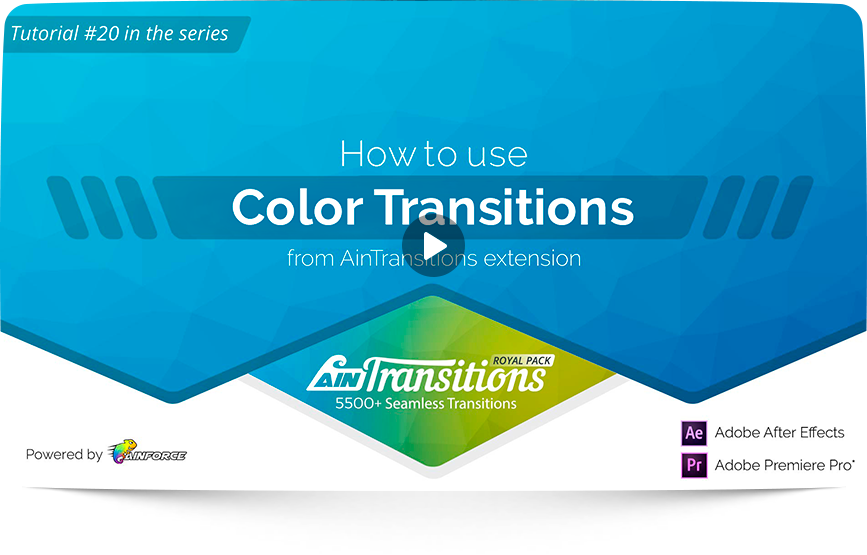 00:00 – 00:07

–

Intro

00:08 – 01:48

–

Interface Overview

01:49 – 04:01

–

Automation for gradient type of transitions

04:02 – 05:09

–

Automation for sequence type of transitions

05:10 – 07:11

–

Color Scheme Buffer

07:12 – 07:23

–

Ending
You can familiarize yourself with the main points from the video tutorial in text form on a separate page "Key points of use"
See a preview of all Transitions